La Table du Manoir, a delicious escape
As you sit comfortably on an armchair in the conservatory, the peaceful setting will cast its spell on you. Our team are here to welcome you to this unique and timeless restaurant every evening from Monday to Sunday. Enjoy creative gourmet cuisine that we are proud of in the heart of the beautiful countryside. In summer, you can make the most of the natural forest setting by sitting out on the terrace.
Allow yourself to daydream as you feast your eyes on our unusual lamps and nature frescos. The pink flamingo wallpaper adds to the sense of an exotic journey. The shades of blue on the vases displayed on the bookshelf are an elegant accompaniment to the stunning light in the conservatory. A tasty, relaxing interlude with the chance to unwind on the menu.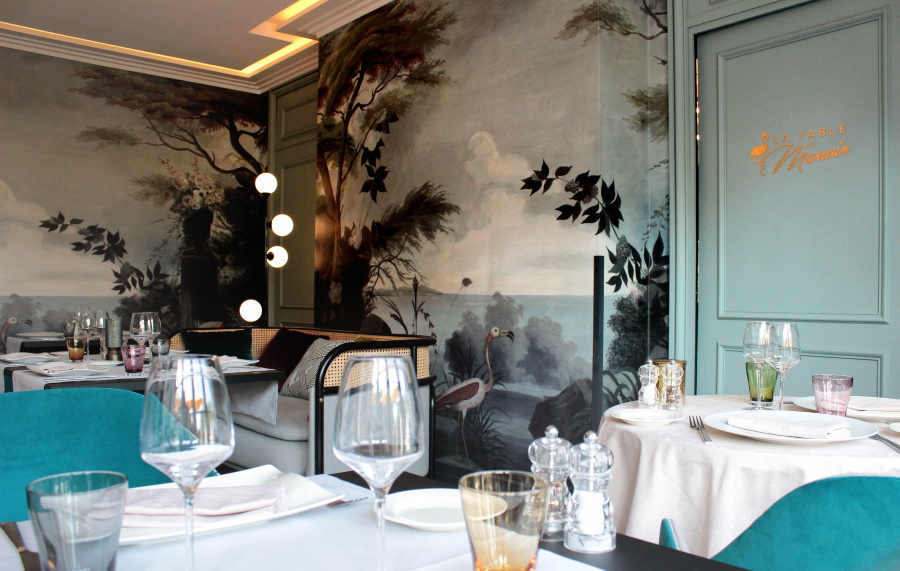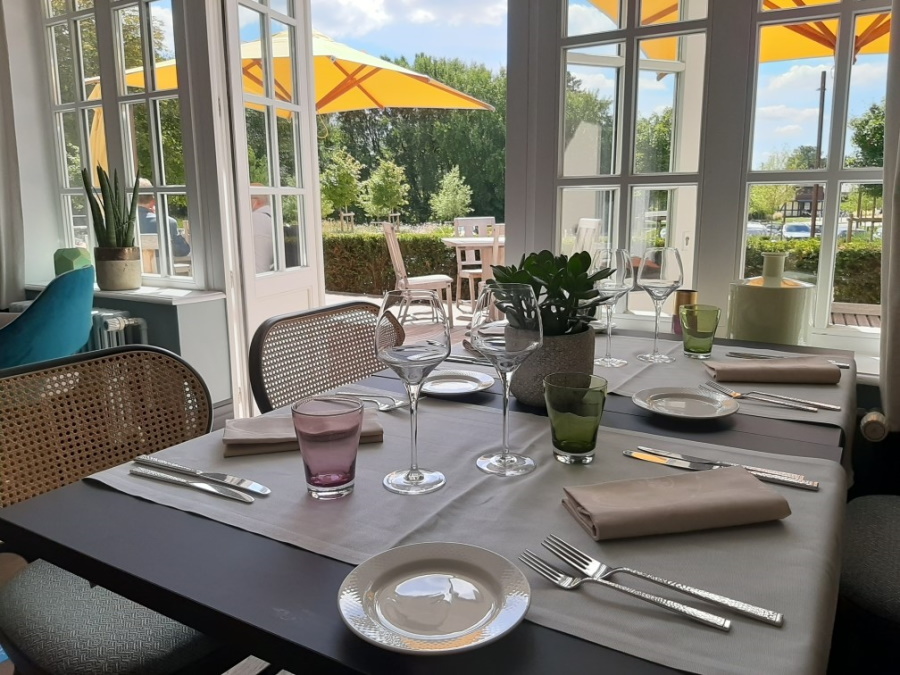 Fresh, gourmet cuisine: a taste of Le Touquet to suit any occasion
Our restaurant is open to the public and prides itself on serving fresh, local, seasonal produce. Local fish shares the menu with "Black Pearl" beef and sweetbreads. Our customers love our varied menu of simple fine food featuring quality ingredients that our chef showcases to perfection. Once you've tasted our apple dessert, you'll never look at an apple the same way again…
Nothing beats a new discovery by a small wine producer to make your meal sing. La Table du Manoir is renowned for its skilled staff and friendly service. From a meal with family or friends to a corporate event or a big get-together for a christening, holy communion or wedding, La Table du Manoir will meet your needs all year round with care and attention to detail. Local produce and authenticity are the hallmarks of this reputed establishment.
During the summer months, Sunday brunch can be taken on the terrace.
Our Happy Brunch for a Happy New Year
Let's look for something better than our Brunch to start this very New Year!
You will not find anything more tasty than enjoying our Brunch at La Table du Manoir on January 01st 2023.
Starting at 12h15, La Table du Manoir is having a nice Buffet Brunch where you will find breakfast food to remind you that you missed yours! Then a fully varied buffet with terrines, mixed salads, salmon and fish will lead to the main course where the Chef knows exactly what to cook for the after New Year's Eve party!!
A cheese buffet and tasty home-made desserts will mark the beginning of this coming 2023 New Year!
The Mbar, cocktails, cookies and chillin'
Originally inspired by an English pub, Le Bar du Manoir has had a surprising facelift. Deliberately contemporary, it has abandoned its heavy curtains to let in more light. And one of Madison's "secret recipe" cocktails will instantly change your quick drink into a taste sensation!
Although the warm, authentic décor, sunny south-facing terrace and inviting snooker table will catch your eye, it's the service that will wow you. Thoughtful attention to detail like complimentary cookies and free Wi-Fi are also greatly appreciated.
A chic, elegant new space you can chill out in with family or friends as you share a platter at one of our Friday night "apero-concerts", featuring local bands like The Blue Nuts, Tribute to Liverpool and the Foot Fingers. Sports fans are also catered for with large screens broadcasting major sporting events.