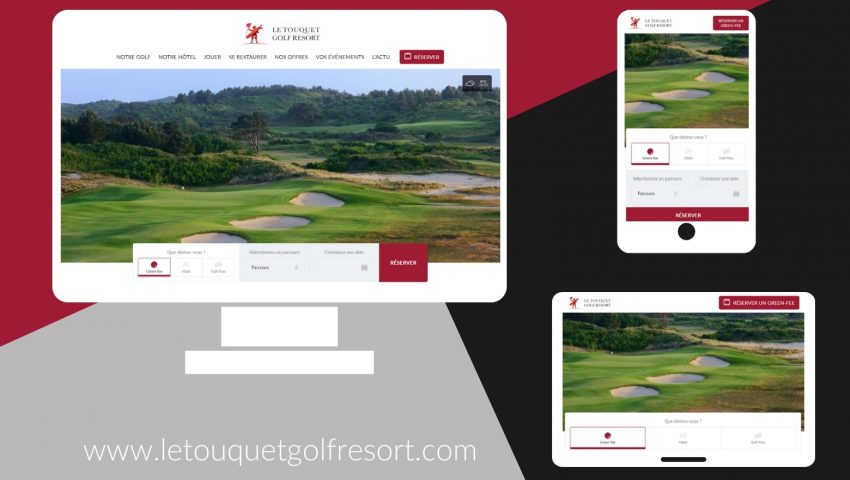 A new website with new features
With this brand-new website and this ergonomic design, as user we would like to bring you a convenient and pleasant experience as much on your laptop, as your smartphone or tablet.
New sections to make your life simplier!
– OUR GOLF: learn more about golf, its history, its commitments to the environment, discover our clubhouse, our proshop and our partners, as well as the life of the club and practical information informing you about the opening hours, closing days and access of the golf course.
– OUR HOTEL: discover the destination Le Touquet Paris Plage, the Manoir Hotel and the 5 typical rooms that you can book directly online as well as the practical information of the hotel.
– PLAY: follow live the information of the Touquet Golf Resort, discover the details of our three courses, our practice, do not miss our next competitions (developing page) and learn more about teaching within our golf course.
– RESTAURANT: treat yourself to a gourmet break at spoon, the Club House restaurant and a moment out of time in the restaurant of the Hotel La Table du Manoir showcasing fresh and seasonal produce with freshness and gluttony.
– OUR OFFERS: find all our special offers, member benefits and golf gift vouchers
– YOUR EVENTS: Discover all the options Le Touquet Golf Resort offers you to celebrate your corporate or private events.
– THE NEWS: this page features all the latest news about Resonance Golf Collection, our unmissable events, and tips and advice on improving and perfecting your golf skills.
Book online at the best price
Booking a green fee online has never been easier! A "Book a green-fee" button accompanies you throughout your visit to our website to allow you to book a start at the best price! Golf members can also book a start via the "Member Access" button. Golf club members can also book a tee-off time using the "Member access" button.