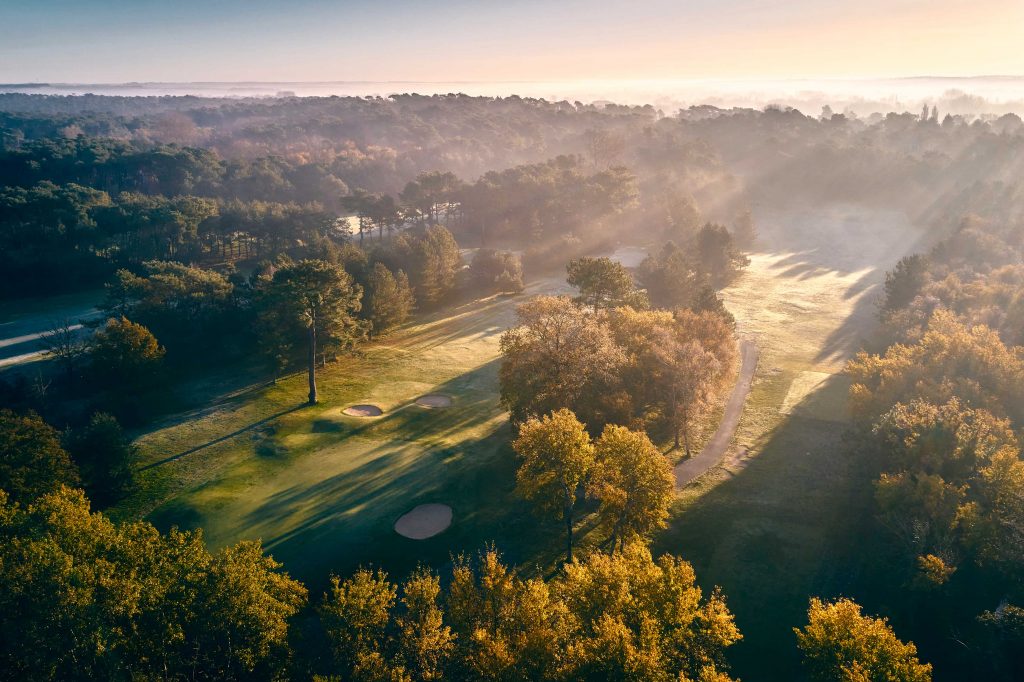 Our answers to your questions
Looking for information? Find answers to the most frequently asked questions here. Didn't find the answer you were looking for? Scroll down to the bottom of the page and contact our helpful customer care team.
How can I play on the driving range?
The driving range is accessible all day, even outside of reception opening hours. Our ball dispenser accepts contactless card payment, so you can access balls at any time. During opening hours, you can also buy tokens from the reception. We hire out individual clubs if you don't have your equipment with you. The driving range ball dispenser will give you about forty balls. For safety reasons, it is strictly forbidden to pick up balls from the driving range.
Are there any days the driving range is closed?
Our driving range is open all year round and can even be accessed outside of reception opening hours.
Do I need a handicap index to book one of your golf courses?
To play on the La Mer 18-hole course, we ask for a minimum handicap index of 24 for men and 28 for women. To play on the La Forêt 18-hole course, we ask for a minimum handicap index of 35 for women and men. You don't need a handicap index to play on the Le Manoir 9-hole course. You need an ffgolf handicap card to play on either of our three courses.
Can you pay a 9-hole green fee on the 18-hole course?
You can play 9 holes on the La Forêt course from 3 pm but only the front nine (holes 1 to 9). Because of health restrictions, we cannot currently allow you to play the La Forêt back nine (holes 10 to 18) in the morning. We don't offer 9-hole green fees for the La Mer course (the 9th hole is nowhere near the reception).
Are dogs allowed on the golf course?
Dogs are not allowed on our courses and inside the clubhouse (bar and restaurant), even on a lead*.

*only our members who have signed a specific contract are permitted to play on the courses with their dog on a lead
Are there toilets available on the golf course?
There are no toilets on the golf course. The 9th and 10th holes of the La Forêt course and the 9th hole of the Le Manoir course are located near the clubhouse, where you can access the toilets.
Does the clubhouse have showers/locker rooms?
There are locker rooms and showers available for your use all day. Towels are also available free of charge from the reception. And we provide free lockers where you can store your belongings during the day.
Can I bring a non-golfer with me when I play?
You are more than welcome to bring someone with you while you play. Our only requirement is that you explain golf etiquette to them. There is a limit of two non-players per round (excluding a specialist caddy).
Are there any days you are closed?

We are open every day of the year except 25 December.
Can we have lunch in the Golf du Touquet restaurant without playing golf?
The restaurant is open to the public. Its opening hours are daily from 12 pm to 4 pm. We serve our full menu between 12 pm and 2 pm and then the golfer's menu until 4 pm. Dogs are not permitted, even on a lead. Bookings are recommended at the weekend.
How do I make a group booking (for 12 people or more)?
If there are 12 people or more in your group, please contact the golf club's booking office directly to organise your rounds of golf – letouquet.golf@resonance.golf
Can I go for a walk around the golf course?
No, it is dangerous to walk on our golf courses. You risk being seriously injured by a ball. However, you can walk around the outskirts of the course if you stay on the path.
Do you hire out golf equipment if I forget something?
We hire out individual clubs, half-sets and top-of-the-range full sets. We also hire out manual pull carts (we don't have any electric pull carts). We don't hire out gloves or shoes.
I have an electric car; is there somewhere I can charge it?
Yes, we have four electric charging stations: two for Teslas and two for any type of electric car. This service costs €0.30 per kWh including VAT.